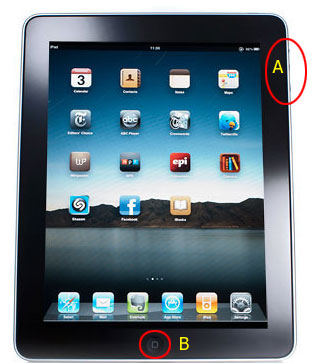 You must have used "Print Screen" function in PC for taking screenshot of which you were viewing in the screen. You can also take screenshot in iPad, follow 3 easy steps to take screenshot for an iPad screen :
Step 1 : 
Press the Power button (on/off switch) of your iPad, and while holding it down, press the "Home Button".
Step 2 : 
You will see the screen 'flash' white and hear a camera 'clicking' sound.  Now open the Photos app on your iPad.
Step 3 : 
You will see the screenshot you just took as a thumbnail. Tap that photo to view the screenshot.
Tested with iPad (first generation) and iPad 2.
Use below image for Help :

A = Power button
B = Home button