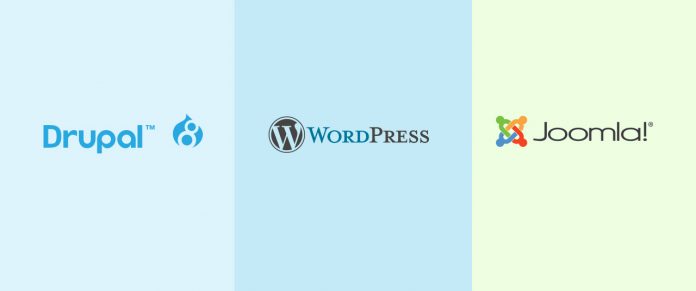 In the robust world of CMS (Content Management System) top 3 contenders standing class apart are WordPress, Joomla and Drupal. With their responsive community and effective architectural building it is gaining popularity especially in business organizations that are running multiple sites. With these effective CMS you can build standard sites, classifieds, directories, shopping carts and much more.
Out and out between WordPress vs Drupal vs Joomla
WordPress
WordPress based CMS are user friendly and used by millions of people for its easy to use applications. It is most popular platform in the blogosphere. It works on intelligent text formatting. If your work is related to heavy typography then this CMS is tailor made for you. You can choose elegant themes from thousands of theme developers worldwide. Its easy to use application and typography enhancing features make it appropriate for text rich sites and its architectural patches gives it a powerful SEO presence which makes WordPress a very dynamic versatile CMS but from security point of view one needs to take extra measure to ensure the security check. Prominent sites which are built under this platform includes CNNPolitics.com , in.yfittopostblog.com,  ebayinkblog.com
Drupal
Drupal secondly known as developer's CMS. Everything from personal blogs to powerful  enterprise applications all are possible in Drupal but usage is complex as well as time consuming. Most of the media house sites are built on Drupal based CMS. Drupal community is a power pact community and indeed bustling community for developers. Inspirational sites built under the powerful platform of Drupal are The Economist,  Symantec Connect , The White House and Examiner.com. Security team of Drupul is effective and use proven track record in handling security. The highlight of Drupal based CMS is that it can be used to run multiple websites with one back end and data base support. If you are looking for a developer friendly and customizable CMS then this is for you.
Joomla
The name Joomla means "altogether" in Urdu and there is no doubt Joomla has been living up to its name quite impressively. Joomla has amazing capabilities. This CMS includes best of both worlds as it is easy to use at the same time developers like it because of its amazing capacity in terms of development and customization.  From developers perspective it has lot to offer such as application bridges, inventory control, communication tools, complex business directories, custom product catalogs all in all justifying its name well. Joomla community support provides adequate mechanism like mailing list, forums, resources, magazines. Like Drupal Joomla lacks the ability to create multiple sites with one database support but at the same time it is friendly for all type of users including designers, developers and administrators. Joomla based prominent sites includes http://www.PizzaHut.fr, http://api.orange.com,www.unric.org

Final Verdict
WordPress
WordPress are for those who are looking easy to use interface
It is most popular platform in the blogosphere  with ample of plug-ins, widgets and themes
Its architectural patches gives it a powerful SEO
Highly recommended for beginners
Drupal
Media houses, magazines use Drupal  because of its hierarchal  publishing flow
It's developer's friendly CMS
It has huge responsive community
Joomla
Joomla is extremely customizable and adaptable forEnterprise, small scale business, NPOs and beyond including corporate websites, portals, reservations systems etc.
Built in community and membership feature
Perfect for community sites, reservation systems, inventory control sites and online store